"Creativity is contagious, pass it on." – Albert Einstein
I am co-hosting Thrifty Thursday with my friends
This past weekend I was visiting my family in NY, and ended up buying a few extra things ... which wasn't so great as our bags were packed coming down as it was! So we made a trip to "Savers" (I guess just like Goodwiil) and I found a perfect, brand new, suitcase for only $8.99! I wish I had thought to take photos, sorry!!
I was so happy with this deal, I also got 5 books (romance novels :) ) for $8 and a cute dress for $8 as well! I could've just kept on shopping, but we had so many more places to be that I ran out of time!!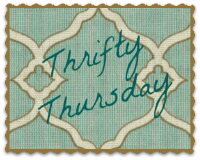 Thank you all for stopping by and I hope to see you again for next weeks Thrifty Thursday!!
XOXO,