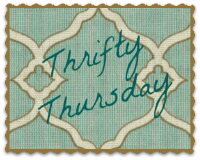 I can't believe it's Thursday already!!
Do I start all my TT posts this way?? :)
It's been crazy days, I missed last weeks post as I was in NY visiting family for most of the week!
A HUGE Happy Birthday goes out to my Brother (5/23), niece (5/22) and Grandma (5/20), who all have birthdays this week!! Late May is my favorite time of year on Long Island! I wasn't as lucky to have the normally beautiful weather though on this visit. It was great Thursday but cloudy & rainy through the weekend.
Here's a photo of just beginning our descent into Long Island, Weds around 6:30pm.
(Shh! Don't tell, I turned my phone on!)
One day when I get through all the photos on my camera :) I will have more to show you! I know I owe you all LOTS of photos and memories!
I'm sorry I don't have any posts to Feature this week! But leave me a comment and I will Feature yours next week!!
XOXO,