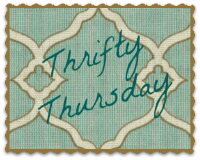 Here it is, Thrifty Thursday again! I am excited to say I have finally done my first month of meal planning! I haven't gotten it on a fancy calender yet, but I am following it! I will show it all to you soon! If you didn't see last week, I get my inspiration from Chrissy, who blogs over at Parlo & Logi! I've been eyeing her posts for months and it really is easier than you'd think, you just have to get in and do it!
On to this weeks Features!
1. Organized Linen Cupboard. I just love everything organized!
2. Oh the things my kid says! This is just plain awesome!
3. Chocolate Mint Oreo cupcakes. I so need to make these, although they don't really go along with eating healthy :)
I can't wait to see this weeks posts!! Leave me a comment if you would like your post Featured next week!!
XOXO,