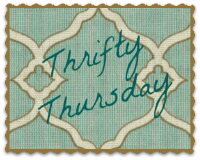 Well, here we are again! It's Thrifty Thursday! I can't believe how fast the weeks are flying by!!
I hope everyone got their posts in last week and you have something awesome to share this week!!!
I have been taking a lot of time to sort out my VISION for the Healthy Higgins blog and though there's still a lot to do, I have great dreams for your viewing pleasure!
I forgot to pick out my 3 Featured posts for this week, but I loved them all!!!