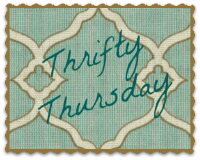 Hey Everyone! I just can't believe how fast the days go by! I probably say this every week too!!
This week I am featuring 3 posts that caught my eye from Thrifty Thursday #10!
#1 - DIY Crown Moulding Shelf. I love

everything

DI

Y!! :)
#2 - DIY Magnet Boards. I wasn't going to show 2 DIY, but I

just LOVE this idea!
#3 - Beautifully Organized Pantry Just beca

use I wish my pantry looked like this!
(well, it will when I have one :) )
#4 - (Added an extra just for fun!) Family Pleasing Taco Soup

This looks delicious!
Wow! Do you see how amazing those posts are! It was hard to choose

:)
I hope you'll add your links this week, so I can

Feature them next week! Leave me a comment below if you want to see your post Featured!!