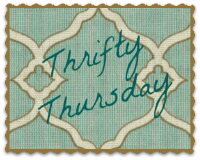 I can't believe it has been so long since I have posted. I have been taking some time to explore where I am headed and have a really long draft email saved up!
Today we are focusing on Thrifty Thursday, and I have found some really great posts to share with you!!
Please comment below and let me know if you have a post you want Featured!!
Bathroom Update on a Budget - because we can all use this!!
How to make a Trifle - I LOVE trifle!
(I once made one with layers of brownie, choc pudding & raspberries! OMG!)
Tomato, Cucumber, Mozzarella Salad - 3 of my faves!
I am so making this!
12 Kids Craft ideas! Riley will love some of these!
Well I hope you love all my Features!! Please post yours, then leave me a comment and I will Feature it!!
HAPPY FATHER'S DAY TO ALL THE DAD's OUT THERE!!
Especially my WONDERFUL Husband, Father & Father-In-Law! And my Brothers and uncles, cousins, etc, etc ... :)