I actually have nothing exciting to say today :) Everything is going great, projects aren't getting done the way I would like ... See Monday's post :) but we make it through the days, and weeks, happy!
Look at the gorgeous flowers my hubby surprised me with last night :)
Tonight I am meeting a friend for dinner and a movie! I am super excited!
Anyone else have exciting plans for the weekend??
I can't wait to see what you share with us this week!!! Don't forget to share with your friends so we can see everyones "Thrifty" projects!!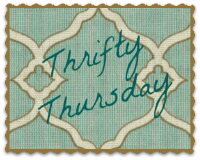 Until next week!
XOXO,