Well, my most recent "thrifty" idea didn't work out so well :).
While in NY, I bought a wooden "keys" sign with metal hooks, and thought it would be an awesome project to do with Riley and share! We had such a busy weekend that we never got to it! I will have it done for you all to see though!
However, during our busy weekend, Riley and I spent near 2 hours in Barnes and Noble searching for books for each of us! It was lots of fun!!
Don't forget, I am co-hosting Thrifty Thursday with my friends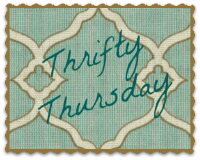 XOXO,