Happy Thrifty Thursday everyone!!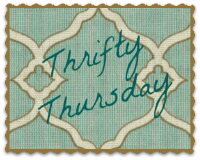 Well, here it is! I have finally put it all together!!!
Here is our old TV stand ... I was so afraid we would wake up or come home and one of the cats had knocked the TV down because it was just too big for th

e old stand!
Jax is always my big helper, he loves to be in the middle of everything I am doing!
Ahh, my handiwork! I love to put things together, but this one took me at least 2 hours! There were so many pieces :)
But I'm so glad it's done!
Check out some of my featured posts from last week!! Don't forget to add yours below, so I can feature it next time!!
This looks amazing, and I plan on making it soon!
Isn't that what this is all about? I can't wait to try some of these!
I hope I get the chance to Feature your Thrifty post!!! Please share! :)