Wow, so much for planning ahead and actually having a Thrifty post for you all!
This past weekend we went out and bought a new TV stand .. for the new TV we bought a couple months ago :)
Then I spent a good 2 hours putting the thing together! I wanted to show you all my handiwork, but it seems I didn't save the photos to my computer, and it will have to wait, for tomorrow!
Please bear with me and enjoy today's Thrifty Thursday posts!!
Please add yours ~ next week I will start featuring a few and I don't want you to miss out!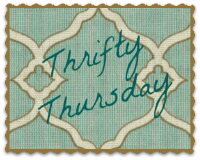 XOXO,