Yayy, It's Thrifty Thursday again!! These weeks are just flying by so fast!! I Hope everyone had a wonderful 1st day of Spring, even if it still felt like Winter where you are :)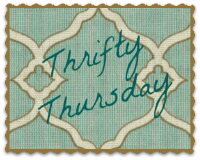 First, and foremost, I want to wish my wonderful Mother a Super-Duper Humongous
I hope you have the best day and weekend, and visit with Nic & Mike!! We'll see you in a few weeks, can't wait!!!
Tyler, Riley & I
LOVE YOU!!
Yup that's me & my mom :)
Thank you all for indulging me, & my nostalgia, while I shout out to my mom :) and now on to my Feature posts from last week, plus your chance below to get Featured next week!!!
& Because I'm a sucker for desserts :)
XOXO,